How good would it feel to finally have the body you want and
never stress about what to eat or how to exercise ever again?
Introducing
Born Fitness Coaching
The most trusted fitness and nutrition coaching program available online
A coach in your corner, that teaches you how to overcome the biggest barriers to your success.
A customized plan that works for your body and adjusts with your schedule.
And peace of mind that you're doing the right things to get the best results.
Most fitness and diet plans fail because they're too generic. We're changing that, one body at a time.
Question: If there's so much information out there about fitness and nutrition, then why are most people still struggling to get the body they want?
Hi, I'm Adam Bornstein. That's the question that drove me to leave several high-level positions at some of the world's largest health and fitness companies and start Born Fitness over a decade ago.
My mission is simple: To cut through empty promises, bogus research, and confusing advice and bring an effective, personalized approach to health and fitness that anyone can use to get in better shape—even if they've tried and failed before.
Over the past decade, my team of coaches and I have had the honor of coaching over 1,000 people directly, with 50 million more reading and following our work.
These aren't fitness models or world-class athletes, either. These are real people with real lives—and I hear from them constantly through email, social media, and even in person.
Trapped in the daily grind—confused, overwhelmed, and fed up.
Every day, thousands of people come to Born Fitness

looking for health and fitness advice they can actually trust.
The vast majority feel:
Confused about the best way to eat and exercise to actually reach their goals.
Overwhelmed with conflicting information that seems to change constantly.
Fed up with their struggle to lose weight or change their body—sometimes after years of effort.
This isn't surprising.
I've been in this industry a long time, and have seen how shady certain companies or "experts" can be. I've seen how the entire industry can prey on people by making false promises and spreading misinformation. I've also seen the negative effects of being caught up in the fitness industry "echo chamber" — the dark social-media caves where shouting, outrage, and bro-science drown out everything else.
Think about it: Did you ever dream of reading nutritional labels or depriving yourself of your favorite foods? Did you ever dream that you would worry about looking stupid in the gym? Or feel insufficient after scrolling through dozens of "fitspiration" photos in your Instagram feed?
Hell no.
Years ago, did you ever dream of waking up tired and rushing through your day? Did you ever dream about needing multiple drinks in the evening just to take the edge off? Or mindlessly snacking on stuff you know you'll feel guilty for eating later? Or being too exhausted at the end of the day to connect with your family?
Of course not. And yet, that's how many people live, day after day, year after year.
But what if life were different?
Imagine a different kind of Monday morning…
You get out of bed, put on your nice workout clothes, grab a cup of coffee at your favorite spot, and head to the gym.
You get out of bed, put on your nice workout clothes, grab a cup of coffee at your favorite spot, and head to the gym.

You put in your headphones and cue up some music. Instead of fumbling around trying to figure out what to do, you pull up your new program that your coach sent you over the weekend. What's on it today? You scroll through and see that he's added another core exercise, just like you requested. There's also a fun-looking upper body exercise. "To help your shoulder," he writes. With your program in hand, you crank up the music and spend the next 45 minutes moving, sweating, and nodding your head to the beat.

After a great workout, you hit the showers (taking a second to glance approvingly in the mirror), grab a smoothie for breakfast, and head to the office.

Personalized Eating Guide
When lunchtime rolls around, you pull out your phone and check your eating guide. A quick glance is all you need and you know exactly what to order to hit your goals and feel great.
No restrictive plans, just guidelines to make the best choices for your individual goals — so you can stay on track whether you're ordering out with friends, on vacation, or prepping for holidays with the family.

After lunch, you're back at the office. While the rest of the building looks like it was taken over by zombies in need of their fourth cup of coffee, you're still feeling focused, even though it's 3pm. You finish your work early, fire an email off to your team, and shut down your computer for the day.

On your way home, you stop by the store to grab fresh ingredients for dinner. You know exactly what to grab at the store that will make you feel good tonight and tomorrow.

Later, while dinner's cooking and music floats in from the living room speakers, you enjoy a guilt-free drink. From there, it's good food, an hour of Netflix, and a little reading before bed.
When your head finally hits the pillow you can feel it in your bones: Life is good.

And the best part: the health and fitness stuff barely took any thinking at all. All you had to do was follow the plan your coach created—just for you.
This is not a fantasy or a day designed for other people.
No matter what your "perfect day" looks like, you can still get the body you want and live a healthier, more stress-free life—even if you've tried and failed in the past.
In Born Fitness Coaching, we remove all the guesswork
and build you a customized program that just works— no matter your schedule, preferences, or experience.
You are the focus.

Unlike most coaching services, our fitness and nutrition programs are customized to your schedule, your preferences, and your level of experience. You interact with your coaches every week. No one-size-fits-all templates. Everything is customized specifically for you.

Coaches that care.

Born Fitness Coaching is a family. We'll remember your dog's name; we'll send you gifts for big life events; and we'll always be here to listen, no matter what's going on in your life. It's an honor to be apart of your journey, and we want you to feel supported in every way.

Take the stress out of fitness and nutrition.

No more worrying about what to eat, how to exercise, or what to do next. Your only job is to show up and follow the plan. Confused? Ask questions and we'll simplify. Leave all the details to us, and get on with the rest of your day.

Adjusts to your schedule and preferences.

Going on vacation? No problem. Traveling for work? We'll help you out. Want to skip the gym and exercise at home? You got it. No matter what you've got going on in your life, we'll adjust your plan so you can stay consistent and continue getting great results.

Designed for real life.

Want to have ice cream in your diet? We'll make it happen. Love microbrews or Italian wines? We won't deprive you of the stuff you love. Instead of crazy-strict dieting rules, we'll work together to create a simple plan that gets great results—without making you the "weird person" at dinner.

Built for results that don't disappear.

Instead of quick fixes that don't stick, we play the long game and require a 6-month minimum commitment (of course, you can stay as longer if you want). Why? Because we've coached thousands of people and have found that it requires 6-months for 95% of people to hit their goals. We know you're here for accountability, and this is part of it. We don't want you to quit before you hit your goals. We also believe in solutions that last. We want you to get great results now — that you keep for the rest of your life. In fact, most of our clients decide to stick with us for a full year or more, just to keep the positive changes coming and keep life stress free and simple. From vacation to life on the road, we adapt to your needs.

Results 100% guaranteed.

We're committed to getting results for you, which is why we offer a 30-day money back guarantee. If you don't feel coaching is a good fit, let us know within 30 days and we'll provide a full refund for your first month (and require no additional payments). If you invest in us, then we invest in your success.
Born Fitness Coaching:
Proven over 15 years.
Trusted worldwide.
Earlier I asked you a question: If there's so much information out there about fitness and nutrition, then why are most people still struggling to get the body they want?
After more than 15 years in this industry, I can confidently say the reason most people reliably fail to get in shape comes down to one key factor: They don't have anyone looking out for them, catering to their needs, or keeping them accountable.
Like so many other things in life, there's a huge difference between:
Trying to figure everything out on your own.
Trusting the wrong sources.
Having a trusted expert guide you every step of the way.
People hire Born Fitness Coaching when they've exhausted the first two options and are ready to outsource the details of their health and fitness to experts who truly care—and who know how to deliver impressive, long-lasting results.
Testimonials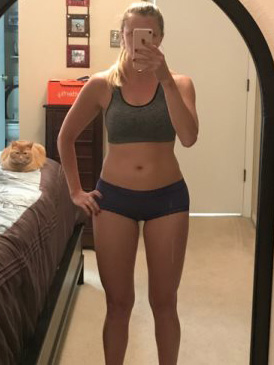 "I couldn't be happier that I joined Born Fitness Coaching. I was balancing graduate school, work, and planning a wedding and was struggling to maintain healthy habits and behaviors. I wanted to feel and look my best for my wedding day and decided to commit to a program that provided the resources and accountability that would set me up for success. My workouts and nutrition plans were personalized to me and if something wasn't working, they would make a change. Most importantly, I learned a ton about myself and what works for me when it comes to exercise and diet."
— Jessica
"I'm happy with my physique right now and now want to maintain it. I'm so happy I signed up because to be honest, I was unhappy with how I looked. Now I not only feel like a different person but people are also noticing. I can't begin to thank you guys enough for getting me here."
— Steve
"My entire wedding day I had family and friends complimenting me on how much weight I've lost. It was the best day of my life and a big part of it is owed to you both. When I started this several months ago I honestly just wanted to do this until my wedding and call it quits. I actually weighed in at 212 the morning of my wedding (30 pounds total loss since my proposal.) With your help I can only imagine the possibilities. I honestly can't thank you both enough."
— Kevin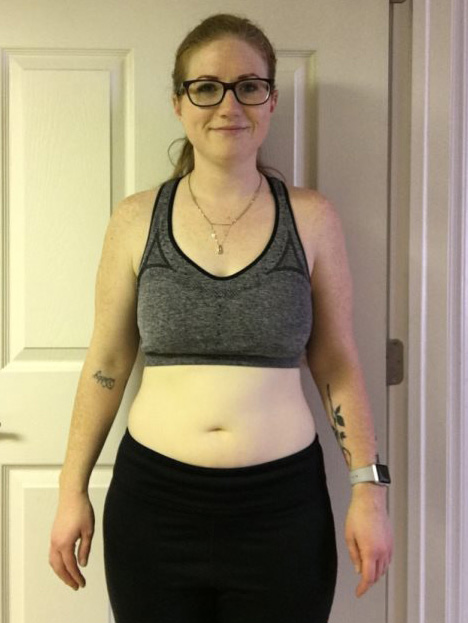 "This experience has given me my life back. I have so much more confidence. I feel stronger, physically and mentally. I have a new outlook on life and I enjoy feeling like I can do things again. Most of all, I feel much more comfortable in my clothes and my appearance. I still have some work to do to hit my goals, but knowing how much I've accomplished so far makes it easy for me to have the confidence that I will reach my goals with the help of Born Fitness and my coaches."
— Maddie
Meet the Born Fitness Coaching Team
Each coach is certified through the most-respected fitness organizations
or has a nutrition certification or a degree in nutrition.
BJ

Head Fitness Coach

BJ is a veteran exercise coach with over 9 years spent coaching in-person clients, field-tested nutrition and diet coach, former sports science lab research assistant, and a life-long lover of movement. And pie.

Natalie

Head Nutrition Coach

Natalie Sabin is a M.S. in Nutrition & Performance candidate; anticipated completion December 2021. She is a level 2 Precision Nutrition coach and holds a B.S. in Health Sciences. Natalie has helped hundreds of clients simplify nutrition and reach their goals since she joined the Born Fitness team in 2017.

Adam

Founder of Born Fitness

Adam Bornstein is a New York Times bestselling author and, according to The Huffington Post, "one of the most inspiring sources in all of health and fitness." An award-winning writer and editor, Bornstein was the Fitness and Nutrition editor for Men's Health, Editorial Director at LIVESTRONG.com, and a columnist for SHAPE, Men's Fitness, and Muscle & Fitness. He's also a nutrition and fitness advisor for LeBron James, Cindy Crawford, Lindsey Vonn, and Arnold Schwarzenegger. His work has been featured in dozens of publications, including The New York Times, Fast Company, ESPN, and GQ, and he's appeared on Good Morning America, The Today Show, E! News, and The Cheddar.
How Born Fitness Coaching Works
The most trusted online fitness and nutrition coaching program takes care of the day-to-day details—so you don't have to.
01

Ask yourself:
"Am I willing to commit to personal coaching for at least six months?"

Our best clients come to us ready to outsource their fitness and nutrition to an expert. They're tired of stressing over what to eat or how to exercise and just want to follow a customized plan that works. If that sounds like you, then you should consider working with us. Minimum commitment is six months, but most of our clients stay for a year or longer.

02

Fill out an application.

Because of the personalized attention we give each client, we only accept a limited number of people into our coaching program. Click any button on this page to start the process. Once you answer a few short questions, we'll automatically send you a more in-depth application to get to know you better. (You'll also receive an email reminder.) It's important to be as detailed as possible in your application—that way we can both decide if we'll be a good fit for each other.

03

Wait for our reply to see if you're accepted.

Because of the high number of applications—and because we go through each application individually—we'll get back to you within a few business days.

04

Connect with your personal coach.

If you're accepted, your coach will reach out to you and start the coaching process.

Once accepted, you'll go through a comprehensive lifestyle survey and connect with your coaches through our private app. Once your coaches learn the details of your life, they'll begin to develop a custom fitness and nutrition plan that works for your body, your schedule, and your preferences.

05

Enjoy the coaching process—and get the results you deserve.

Our goal is to remove all the stress surrounding health and fitness and help you get results that last for life. We'll do this by providing you with a completely customized fitness and nutrition plan that works for your body and adjusts with your schedule. And by giving you the ongoing support and accountability you need to stay on track, no matter how busy your life gets.
100% risk free, 30 day

Money-Back Guarantee
We take our coaching very seriously, which is why we offer a 30 day money-back guarantee. If you work with us for 30 days and feel like online coaching isn't a good fit, just let us know and we'll give you a full refund for your first month and require no additional payments.
Our entire business is built on getting results for our clients. If you invest in us, then you can be confident that we'll invest in your success and satisfaction.
"When I decided to get back into the fitness game, I sought out the best and brightest experts in the field. In that search, I asked everyone from my fans to my advisers who they recommended looking at. Without fail [Adam] Bornstein kept floating to the top."
"Few people are more highly respected than Adam Bornstein. He walks the walk in everything he does and everybody in this industry knows it. Anyone who works with [Born Fitness] knows they've struck gold."
Frequently Asked Questions
How much does Born Fitness Coaching cost?

Born Fitness Coaching costs $249 per month. Or we have a yearly option that is $1,999.

Remember: We don't do generic plans at Born Fitness. Instead, everything is completely customized for your body, your preferences, and your schedule. This attention to quality and personalization is how we've been able to help 2,000+ people get the body they want.

What's different about Born Fitness Coaching?

Most online coaching services (and most fitness experts) use generic exercise and diet templates. That means the same program for everyone—regardless of age, experience, or goals.

But at Born Fitness Coaching everything from the nutrition plan to the exercise program is customized to our clients' schedule, lifestyle, and personal preferences. That level of personalization is why we only take a limited number of clients every year.


Do I need to be in the US to join Born Fitness Coaching?

Nope. We've had clients from over a dozen countries, including the U.K, South Africa, Germany, China, Australia, and Canada. We'd love to have you, no matter where you're from.

What if I'm a complete beginner?

We love beginners! Our goal is to help you become 100% confident with exercise and nutrition—without needing to think about it all the time. No matter your goal, we'll guide you every step of the way and make sure you're always following the right plan for your body.

What if I'm more advanced?

We've worked with a lot of intermediate and advanced clients, too. Some of them come to us with years of experience, but are tired of doing the same routine. Other people "know what to do" when it comes to exercise and nutrition—but they struggle to do it consistently. We'll help you get back on track, get better results, and teach you some new things along the way.

What's the time commitment?

Because your nutrition and exercise program are customized for you and your lifestyle, the time commitment is totally dependent on your goals and schedule. If you want to exercise four days a week, we'll make it happen. If you can only exercise once per week, we'll take care of you. Coaching is an ongoing process and it adapts with your life. Once you're in Born Fitness Coaching, you'll work directly with your coach to get the best plan for your body and your schedule.

Can you work around injuries?

Yes. Lots of people come to us with annoying shoulder, knee, or lower back issues (among other things). We'll not only help you "work around it", we'll also give you ways to fix whatever issue you're dealing with. And if we determine you'd be better off getting medical help for your injury, we'll make sure to help you find a good service provider in your area.

How customized is Born Fitness Coaching?

Let's put it this way: If you only want to eat a plant-based diet, we'll help you do that. If you want to eat Paleo, that's what we'll give you. If you don't know what you want to eat, we'll work with you to decide which plan is right for you—and then give you everything you need to be successful.

If you have a big event coming up, we'll help you get prepared. If you go on vacation, we'll write you a hotel-room workout (or maybe even suggest you take the week off and enjoy yourself). If you have a shoulder injury, we'll give you exercises to help it get better. If you want to lose weight the first few months and then add muscle the next few months, we'll help you do that.

You tell us what you want to do, and we'll help you do it. In other words: It's very customized.

When can I expect to see results?

When you will see results is completely personal. It depends on your goals, your current lifestyle, and how much work we need to do together. So, if you're looking for a "quick fix to blast fat and get a six pack!" so some hard sell filled with empty promises, then this isn't for you.

We're invested in your success and want to help you over both the short and the long run. That means results that last. So while we'd love to be able to give you a specific answer, here's what we can say with absolute confidence:

If you follow your coaches suggestions to the best of your ability, you WILL get results with Born Fitness Coaching. We guarantee it.

How often will I hear from or interact with my coach?

Having successfully worked with thousands of people, we've developed a system that gets our clients incredible results.

Every week you'll have a set time period to ask questions, get feedback, tell your coach about upcoming challenges you're anticipating, and ask for any modifications you need.

And every week, your coach will give you an in-depth response, helping you anticipate barriers, and overcome them proactively.

And if you don't have questions? No problem. Your coach will review what you've done and give you feedback and next steps.

We've found this system works better than anything else we've seen or tried, because it creates a team environment where you don't just do what your coach says and become dependent on following a regimented plan. Instead, we give you the tools and skills to learn everything you need, so that once you reach your goals, you can do everything on your own. (If you want to.)

How long does Born Fitness Coaching last?

In order to get the best results possible, we have a 6-month minimum commitment. Remember, we're playing the long-game here. After the first six months, we'll continue to coach you for as long as you want. Our clients come to enjoy having someone they trust write their exercise and nutrition programs, so the vast majority stay on for a full year—with many of them sticking around for two or even three years!
A year from now, you'll be one year older. Will you also be one year better?
Even though my team and I have been coaching clients for years, we still find it amazing what people can accomplish when they stop trying to figure everything out on their own and start following a personalized program.
Fat melts away. Muscle gets uncovered. Strength increases. Little aches and pains all but disappear.
These breakthroughs only happen when you're able to let go of the stress of trying to do everything on your own—and instead put your trust in a proven process.
It reminds me of a the popular cliche:
The definition of insanity is doing the same thing over and over and expecting a different result.
We've all heard this, of course. But have you ever stopped to really think about it? Have you ever considered whether or not it applies to your life?
Are you following the same exercise program you've done before?
Are you constantly jumping from one diet to another…and another…and another?
Are you "all or nothing"—with the balance heavily weighted toward the "nothing"?
Do you struggle to stay consistent, even though you know what to do?
If so, my team and I can help. We've worked with over 1,000 people in the past few years, and know what it takes to get real, long-lasting results. Results that you can see and feel.
You've read this far, so you've already seen our process and our results.
Chances are good that we can help you, too.
We're ready to take the stress off your plate, give you a personalized plan, and help you finally get the body you want and deserve.
But the next step is yours.